CHELSEA LOSE SULE TO BAYERN MUNICH
English Premier League giant Chelsea have lost out in the race to sign 21-year old rising star Niklas Sule to German champions Bayern Munich, according to reports from the transfer market.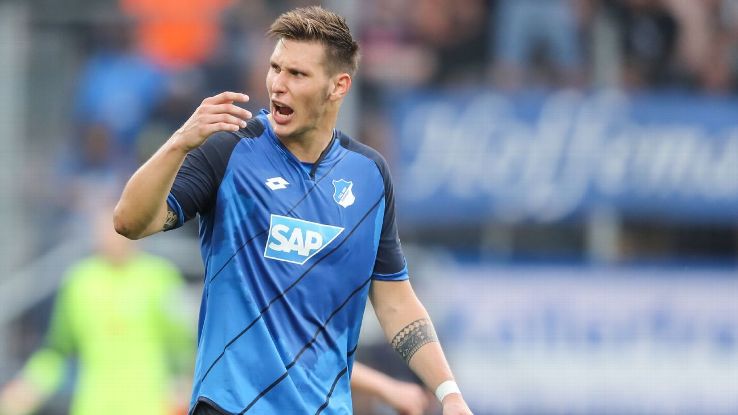 The starlet has been crucial to Hoffenheim's unbeaten record this campaign. He decided to join the top German side in spite of serious interests from the
Blues
.
Antonio Conte wanted the talented defender to join the backline at Stamford Bridge amidst concerns of an aging block of defenders. John Terry is poised to end his stay at Chelsea this season and he is 36 years already. Gary Cahill is 31 while David Luiz is 29, meaning Chelsea have to think ahead if they want to continue their recent successes in the Premier League.
Bayern got the player for a reported £17.5 million after impressing Carlo Ancelotti. He has been central to Hoffenheim's fifth place position in the Bundesliga and their record of being the only side yet to lose a game. The 6ft5in placed already had a bid for him rejected but Chelsea remained adamant. The loss of Leonardo Bonucci – who agreed to a new deal with Italian champions Juventus recently – strengthened the resolve of the former Italy national team manager to get the player.
Sule was part of the German team that ended second in the Rio Olympics male soccer event. He was subsequently moved to the senior team where he made his debut last year. He is one of the highly touted players in the German set-up. His move to Allianz Arena comes as no surprise as the club is keen on retaining the best German talents in the country and the club is one that easily attracts the best players in the world.
"At Bayern, more German needs to be spoken in the changing room. I would like as many Germans as possible to play for us. Arsenal have played matches without a single English player and that for me is unimaginable," Uli Hoeness said of his strong will in retaining German top players.
Javi Martinez is rumoured to be on his way to Spain to play for Real Madrid, with their transfer ban set to expire this summer. The Spanish side would take the player off Bayern, whilst having a backup for aged Portuguese star defender Pepe.